This Christmas, help us help rough sleepers and less fortunate members of our community, who will struggle at a time where festivities revolve around family. We are accepting donations up to the 22 December, aiming to make drop offs to homeless people around West Auckland and Central Auckland on Christmas Eve.
Last year (2017) was the first time we ran this project and we were pleased to be able to make up 85 packs which were distributed alongside Reaching Out, a West Auckland based organisation which works with the homeless community both in Central Auckland and out West. In 2018 we're hoping to double that, and we'll again work with Naylar and Flava from Reaching Out to distribute the packs.
Here are some videos giving you a run down on what we did in 2017:
And another with some background on our partner organisation for distributing these packs, Reaching Out and it's founder Naylar:
How can you help?
Donate items
We are seeking donations of specific items which will be used to create the packs. These items have been selected based on consultation with people who work with the homeless community as being useful for their day to day lives. We will also accept other non perishable food items which will be included in the packs where useful, or distributed via Reaching Out to other local low income families who need help.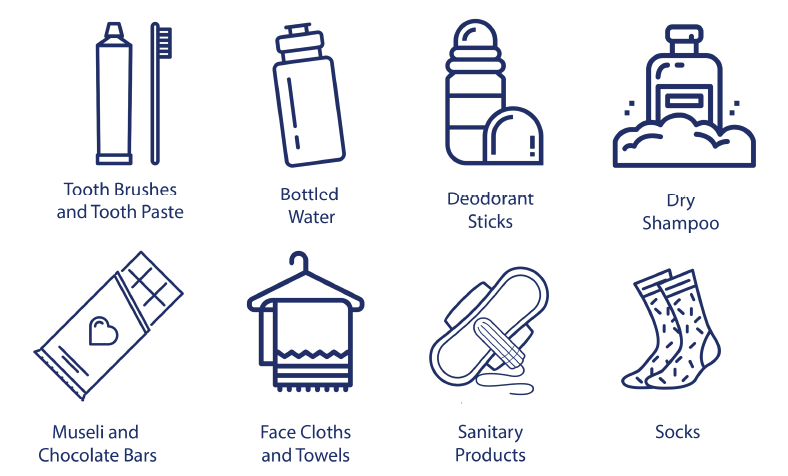 Drop Off Locations
You can drop off items at these locations:
Ray White Glen Eden – 192 West Coast Road, Glen Eden
Fresh Choice Glen Eden – 142 West Coast Road, Glen Eden
Vivid Computers – 8 Lincoln Road, Henderson
Waitakere College – 42 Rathgar Road, Henderson (at the office)
Newmarket – coming soon
Mt Albert – coming soon
Green Bay / Blockhouse Bay area – please text our member Pesh Nathu who lives in this area to arrange a collection: 022 648 8144
Run your own collection
Why not run a collection at your School, Church, Kindergarten or place of work! Print our flyer: PDF version available here and run your collection. When you've finished, drop off the items to your nearest collection point, OR if you've got a decent quantity, text Pesh Nathu to arrange a pickup: 022 648 8144
Donate Cash
We'll be taking all cash donations and buying in bulk for the items we need to complete the packs. All donations of over $5.00 are tax deductible and will go through the Charitable Trust of the Rotary Club of Henderson (our parent organisation). Please use the 'donate' button below to donate via Credit Card or Paypal:
Share our Facebook and Instagram posts
Help us build momentum and share our posts to your networks: See our posts at https://www.facebook.com/rotalite and https://www.instagram.com/rotalitewest