 It all started late 1959 by two men, now alas gone from us, 1959-60 District Governor John Craig, and Past President of the Auckland Rotary Club Fred de Malmanche, the builders who began the construction that would be The Rotary Club of Henderson. Inaugural President Mac Williams makes the following heartfelt observation. "We owe much to these two gentlemen, for indeed they built well".
Our charter night was on the sixth of October 1960, due to the time it took for the documentation to arrive from the States, enlivened by Graham Moffit, telling the group of Rotary dignitaries about the "entirely favourable impression" he said he had gathered in the past three months or so, of what he termed "this American thing" and of John with soothing assurance that clubs were "largely autonomous anyway, and that we will develop our own atmosphere". Which we did, and of course is still with us to this day.
The first meeting proper was held on the 23rd of June 1960. Mac takes up the story. "We were all ignorant and/or confused as to the just what it was all about and what was expected of us, and each had a different degree of apprehension depending on the particular job we had let ourselves in for.
I suppose I was the most apprehensive of all, because I was expected to lead things, and I asked John if there was any written guide available, because although he had told me a great deal about what was required it had unfortunately not stayed with me. He gave me a suitcase full of allegedly inspirational books, pamphlets and reports, a great mass of literature in fact, including fortunately that invaluable tome, the Manual of Procedure, and I spent many nights trying to formulate some order.The great deal of moral and practical support offered by the fellows was an immense help to me".
The Club met initially and for some years at Marge Harre's T & C. Roadhouse. "What a wonderful mother figure and host Marge was." Mac recalls. "Four shillings and sixpence (45cents) was the price of the excellent meal, including supper in the winter, all prepared on the huge Aga cooker in the kitchen. And when Tom Childs contrived to elevate the clubs collective palate to an appreciation of the finer things in life, we had wine served at the table courtesy of Alex Corban, at three pence (2 cents) a glass, 'point of honour', maximum two glasses!"
Over the ensuing years The Rotary Club of Henderson embarked on many projects in order to raise its profile in the Community. The carnival held for some years at 'Corbans Glade' attracted large crowds who experienced lamb on the spit and plenty of liquid refreshments.
Rotary International celebrated 100 years of existence in 2005
and all Clubs were challenged to embark on a project. Henderson designed and developed a rehabilitation and recreation area for the children at Waitakere Hospital. This involved members spending many Saturdays digging, filling and emptying barrow loads of dirt and then wheeling in concrete. Children from Henderson Intermediate painted a mural on three walls which encapsulated the vision and design of the area.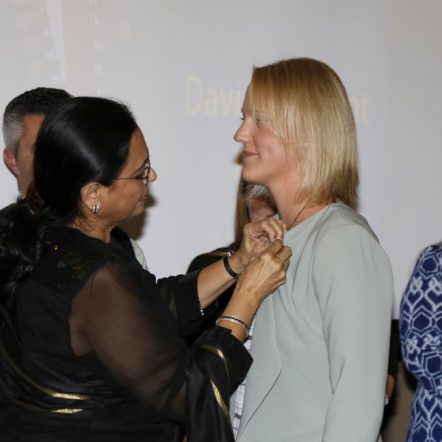 Rotalite West – our first Satellite club – 2015
Identifying the need to bring in a new generation of Rotarians, in 2015 Henderson Rotary was the first in our District to establish a Satellite Rotary Club, which we specifically aimed at younger members, aged 25-45 years old. Satellite club members are still members of the main club but meet at a different time and venue with a lower cost of membership and less formal more project focussed approach.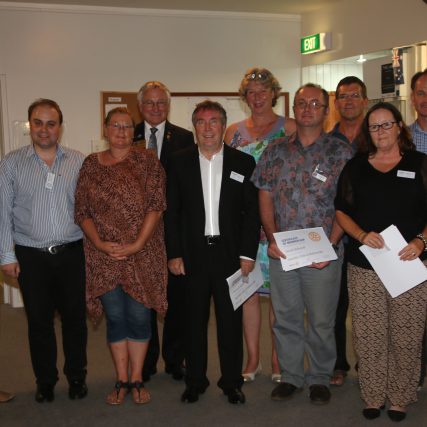 South Kaipara Rotary – our second Satellite Club – 2016
In 2016 we set up a second Satellite Club, this one being based out of Helensville and appealing to people from all over the South Kaipara area.
The Rotary Club of Henderson continues to prosper and has built up an impressive record in the local community.