Henderson Rotary is very pleased to be undertaking a new project at the Waitakere Hospital site here in Henderson. This project came to us via the Well Foundation; the charitable arm of the Waitemata District Health Board.
The pond area behind Waitakere Hospital was in previous times a quiet spot where staff, patients and their families could get some time away from the hustle and bustle of the hospital environment whilst walking around or sitting looking at the lake. Over the years the plants that were originally planted have become very overgrown and obscured the view of the lake. The trees also create quite a dark and some staff have reported feeling a little unsettled walking in this area.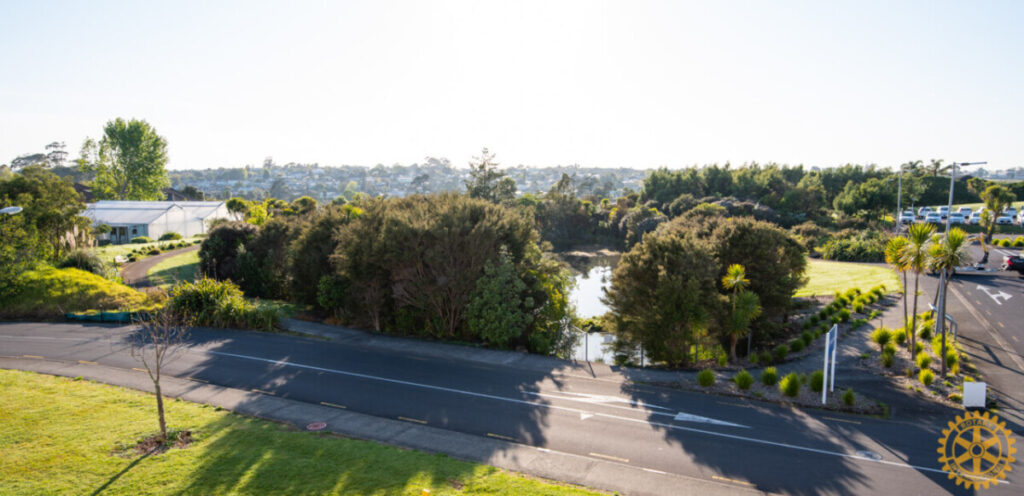 We've had a new design put together by a fabulous landscape architect and over the next couple of months we'll be transforming this area completely. There will be a lot more colour and an improved view, as well as some special areas for people to enjoy.
Working bees for the project started Saturday 3rd October and will continue over the following weekends. If you are interested in the work Rotary does and would like to participate in the project, please contact us. (There is a short health and safety induction needing to be done online to satisfy WDHB requirements).
Our working bees are always a good time – with a good social time (and food) alongside the serious work of doing the project. (Check out the photos below)
Henderson Rotary would like to thank a number of local businesses which have lent their support to this project:
SS Civil and Drainage Ltd – owned by Henderson Rotary / Rotalite West Auckland member Sese Tohi – assisting with provision of small digger and digger operations
Hirepool – offering reduced pricing on hireage of a large digger to undertake the main earthworks.
GHL – providing reduced pricing on security fence hireage
Securo – and health and safety consultant John Riddell for assisting us in preparing health and safety documentation to meet the requirements of the Waitemata District Health Board
Auckland Landscape Services Ltd – Earthmoving Contractors supplying us with topsoil for use on the project
Lissa Photography – owned by Henderson Rotary / Rotalite West Auckland member Lissa Reyden – for providing photography services to document the before/during/after of the project.
Henderson Hire – providing reduced pricing on mulcher
Also thanks to our friends at the Rotary Club of New Lynn who are assisting us with labour for this project.