Henderson Rotary is proud to be running this year's Westgate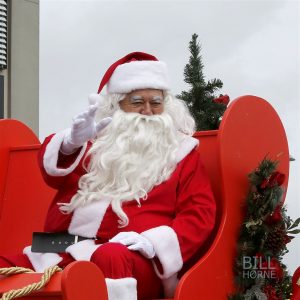 Santa Parade on
Saturday 1st December 2018, starting at 10am. 
The parade is organised by Henderson Rotary Club with support from NZ Retail Property Group (owners of Westgate) and with financial support from The Henderson-Massey Local Board.
Following the success of last year, this year the focus has been placed around creating another family orientated event, with the aim of bringing
together the community to enjoy this fun day out.
The Santa Parade will start the day off at 10am and is expected to take no longer than 40 minutes to complete the route, which is just over 1km long mostly on level ground. This will be followed by a range of entertainment  for the family, including carnival rides, bouncy castles, food stalls, carnival games, face painting, balloonist and an opportunity to meet your favourite character.
There will also be a range of spot prizes which will be handed out by a well know radio station throughout the day. The Santa Parade is free to enter, and the entertainment afterwards will be a gold coin donation with all proceeds going to our chosen charity.
YOU CAN BE A PART OF THIS!
Join us this year! Enter your group and you could be into WIN 1 of 4 prizes up for grabs.
BEST OVERALL FLOAT
First prize: $1,500
Second prize: $1,000
Third prize: $500
BEST WALKING GROUP
First prize: $500
Float prizes will be awarded prior to the parade in the assembly area, so please ensure you arrive on time.
JUDGING CRITERIA
FLOATS
Judges will be looking at the overall float, in particular; float props, creativity, eye catching floats that are well decorated in the festive spirit, music and singing, costumes, hair and makeup.
WALKING GROUPS
Best walking group prize will be awarded after the parade, and will be judged on music and singing, dancing and acrobatics, costumes, hair and makeup. Come help us make the 2018 Westgate Santa Parade a special day filled with unforgettable memories for all!
USEFUL INFORMATION AND SIGNUP FORMS:
Santa Parade Information Pack 2018
Santa Parade Signup form 2018 (printable copy) or online form