Rotalite West is Henderson Rotary Club's first Satellite Club. A Satellite Club is effectively a club within a club. In this case Rotalite West is aimed at Rotarians aged roughly 25-45 years of age, although there are no specific lower or upper age limits.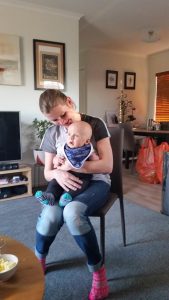 Members of Rotalite West are still members of Henderson Rotary but they meet at a different time, frequency and venue from the main Henderson Club and also have much less formal and faster meeting. In fact our meetings are known to have cute babies, glasses of beer and Chinese Dumplings from time to time!
We've found that this approach appeals to a younger target audience which don't want to spend hours every week listening to a guest speaker and incurring the cost of a meal. Instead the group has snacks and drinks.
The meeting venues alternate between members homes, eating/drinking establishments around Henderson and even our favourite Chinese Dumpling establishment Mr Zhou's in New Lynn.
Rotalite West was formed in May 2015 and has already carried out a number of excellent projects – dismantling and reassembling a new fence for the Ranui Community Garden, redoing gardens for Colwill School and fixing up the Ranui Playgroup's play area with new sand and bark and Demolition of an old unsafe playground and creation of 19 raised gardens at Avondale Primary School. Rotalite has also run a number of successful fundraisers including a Horse Racing Evening, Wine Tour of Norwest Auckland Wineries and a Comedy evening at The Classic Comedy Club. As a result of these fundraisers Rotalite has been able to support some worthy organisations in the West Auckland community such as TYLA Trust (Turn Your Life Around Trust) and Variety.
We're always looking for new projects of all types in the West Auckland area.
If you're the kind of person who likes to get ourdoors and get their hands dirty, then Rotalite needs you.
Meeting day: Every 2nd Monday
Meeting time: 6.30pm
Venue: Changes each week. Please get in touch and we'll let you know the next venue.
Contact Person: Bhavini Pharboo, Chairperson ph 0210 254 6836