Henderson Rotary has been proactive in addressing the need to attract a new generation of Rotary members over the last few years. We realised that in order to attract new, potentially younger members we couldn't keep doing things the old way – we need a product which fits the needs of those who we're trying to attract. The way we've done this is by setting up Satellite clubs.
At the Rotary International 2013 Council on Legislation provision was made for the formation of satellite clubs.
What is a satellite club?
A satellite club is defined as "a potential club whose members shall also be members of the sponsor club". It is likely that the satellite club would not initially have the required number of members to charter a club (20) and the purpose of conducting the satellite club is to give the potential club time to obtain the required number of members for chartering. That said there is no explicit requirement for the Satellite Club to charter in their own right and they may stay connected to the Sponsor Club for as long as they like.
Key points about Satellite Clubs in practice:
8 members are required to start a Satellite Club
The Satellite Club could be in a geographic area not currently covered by an existing Rotary Club or targeting a specific group of people which are underrepresented in your club – eg younger members.
The Satellite Club gets to decide their own culture – what kind of meetings they have, where they meet, the frequency of their meetings, whether it is a formal meeting or more informal.
Satellite Clubs are very project oriented – rather than meetings with dinner and a guest speaker they are much more likely to have snacks and drinks and discuss their upcoming projects or fundraisers. For this reason the cost of being a member could be more affordable for prospective members.
Satellite Club members are members of the Sponsor Club too and it is encouraged that they attend the Sponsor Club's important events, projects and fundraisers as well as coming to the occasional club meeting.
Henderson Rotary has established two Satellite Clubs since 2015:
Rotalite West – Satellite club aimed at a younger audience, aged roughly 25-45. They focus on projects and have relatively informal meetings which are held either at members' homes, restaurants/bars or the local Cricket Club's meeting room.
Helensville / South Kaipara – a club targeting the region around Helensville where there is no nearby Rotary Club. They also focus on local projects and are less formal than the average Rotary Club and meet at the local RSA.
As a result of going through the process of setting up these Satellite clubs we have gained a lot of experience and put together a lot of material which we are happy to share with other Rotary Clubs which might be considering the establishment of a Satellite Club.
We are also happy to answer your questions – please use the contact form on the site to get in touch.
Please find these documents below:
Powerpoint Presentation shown to the Club when first discussing the Satellite Club concept:

Downloadable version (if you wish to edit for your own use)
Open Letter to the membership of the Henderson Rotary club (for first Satellite Club)
Letter to Members from the President (for second Satellite Club)
Frequently Asked Questions on Satellite Clubs (thanks to Rotary Great Britain & Ireland. Please note that this document talks about some things which are Great Britain specific, like joining fees in Pounds. Please take this as general information and be sure to check the exact NZ specifics before proceeding.)
Satellite Club FAQ (Our own Word version so you can add details of the person inside your club that members should come to with questions)
Sample Rotary Club Constitution including Satellite Clubs
Sample Rotary Club Bylaws including Satellite Clubs
Rotary International's Satellite Club application form
Rotary International's Quick Start guide to starting new clubs (including Satellites)
Rotary International's guide to running a successful information evening on a new Rotary Club
Spreadsheet for Charter member list
Satellite Club member information form
A6 card handed out to potential members at community events or via letterbox drop: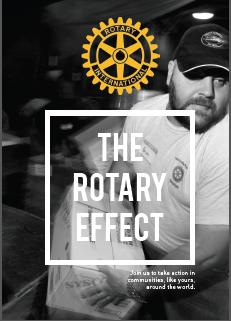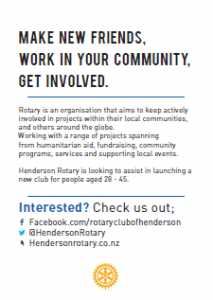 The Rotary Effect Flyer (based on the flyer generator on Rotary.org Brand Centre)
Powerpoint Presentation on Henderson's experience (or view below):
Other sources of information:
Rotary.org discussion group "Satellite Clubs" is a great place to ask questions: https://my.rotary.org/en/exchange-ideas/groups/satellite-clubs