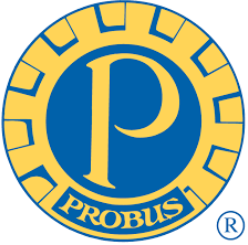 The Probus Club of West Auckland was formed by the Rotary Club of Henderson in 1985 to cater for the interests of retired or semi-retired men in the West Auckland area. The club is autonomous. The Probus movement is now almost world wide.
Since 1985, the Rotary International Board has encouraged Rotary clubs to initiate projects that address the needs of a growing senior (over age 60) population. Our Club caters for men only, we are one of the few social clubs in West Auckland that offers retired men the opportunity to meet on a social level to discuss and take part in male orientated interests and discussions. Many retired Henderson Lions and Rotarians have made the transition from Rotary to Probus and in quite a few instances successfully combined membership in both organisations.
Probus began in New Zealand in 1974 and by 1976 the idea had spread to Australia. At first membership was for retired professional and management people, as time has gone on the criteria for most clubs has changed. The West Auckland Probus Club requires that new members be nominated & seconded by an existing member, previous occupations are not a suitability requirement for membership. The first Probus Club for seniors in North America was sponsored by the Rotary Club of Galt in Cambridge, Ontario, Canada in 1987. Although Probus membership has its greatest concentrations in Great Britain, Australia and New Zealand, clubs today exist in all parts of the world, including the U.S. Belgium, India, South Africa and several other countries in Africa and Asia.
There are over 300,000 members in approximately 4,000 Probus clubs worldwide.
The Probus Club of West Auckland meetings are held on the first Friday of each month, with a break during the Christmas holidays. Our Club is renowned for its informality, friendship and informal atmosphere. Club meetings may consist of a short speaker followed by morning coffee or tea and biscuits. A main speaker follows on a topic of interest to the members.
The Probus Club of West Auckland also organises outings, lunches and combined meetings that can include wives and partners. Every endeavour is made to keep all our activities to a minimum cost. There is a one off membership charge for the year of just $30.00.